2017

NEW Champion !!
October 29, 2017 with a Group 4
CH Millknock Mockingbird, Lizzie
(GCh Kelso's Moon Dancin' RE HSAs, ROM, ROM-P x Ch Millknock Silhouette ROM-P)
co bred with Nancy Kelso DVM





New Champion!!
April 9, 2017
CH Millknock Kelso Shoot For The Moon BN RN, Asher
owner/handler Kelli Carpenter DVM
co bred with Nancy Kelso DVM







A thought, turns into an idea, turns into a dream, turns into reality. In 2016 at our CCA National specialty in Kentucky the largest number of Millknock Owners gathered together at one time. As a surprise they made a spectacular banner with all the titled dogs to celebrate my 50 years in Collies and later a beautiful two page ad in the CCA Bulletin. There was cake, and speeches, and tears...In 2016 Twenty-two Millknock Collies earned titles. Five in conformation, and 73 titles in herding, agility, obedience, rally and barn hunt. Some 30 plus years ago I dreamt of breeding Collies that would conform to our standard and also be smart and athletic. Every dream is pure potentiality.
Collie Club of America Runner Up for 2016 Breeder of the Year


Here are the Dogs who earned titles in 2017, new titles in BOLD with their owners:

1) CH Millknock Whitemoor's Wanderlust HSAs NAP Leslie Butler

2) CH MACH5 Millknock Masked Rider CD RN MXG2 MXC2 MXF T2B4 (MACH4) Mary Valentine

3) CH Millknock Tri The Next Chapter BN RN HSAds MX MXB MXJ MJB MFB T2B2 VA Noreen Bennett

4) GCH CH Millknock's Firework At Mello-D RN NF NFP CA
Babbi Dilbeck DVM, also Reserve Winners Bitch CCA National Specialty 2016

5) CH Millknock Kelso Quiet Riot Marianne Sullivan,
Nancy Kelso DVM, Joan Kelso

6) UCDX CH Millknock To Cyr, With Love CDX GO GN RE CA CGC CDX-C
Lenore Vizzone

7) RATCHX2 Millknock Sunnyside's Zero Gravity CD RN CAA
Dolly Wright

8) CH Millknock Florida Christmas CDX RE HT AX AXJ OF T2B VX
Carol Ann Breton

9) Millknock's Big Sky Treasure CDX GN RE OA OAJ AXP AJP NF OFP EXP
Thea Sperline

10) CH MACH6 (PACH) PACH2 Millknock's Moonshadow CDX RA PT MXG2
MJB3 MXP6 MXPS MJP6 PAX2 XF MFP T2B4 T2BP CA VX
Mary Valentine

11) VCH ALCH Millknock's Back In Black BN RE MX MXB MXJ MJS MXF T2B CGC HIC Andrea Moss

12) Millknock Winds Over Summit HIC Andrea Moss

13) CH MACH2 Millknock No Boundaries MXG MJB2 T2B Caryn Thacker

14) Millknock's Dancin' With Destiny AX MXJ Caryn Thacker

15) UCD Millknock Treasure at Rainbow's End CDX BN GN RE CGCA
Joni Primas

16) MACH10 PACH3 Millknock Daydrm Step N Stone CDX GN GO RE
HSAd MXS4 MJS4 MXP 7, 8, MXP9 MXPG MJPG, MJP6,7,8, PAX PAX3 FTC1 MFC TQX MFP
T2B7 THDA CGC RATO, RATS Jim Smotrel


17) MACH2 Millknock Daydream Handling The Heat CD BN GN
RA PT MXB2 MJS2 OAP OJP OF NFP T2B6 CGC TDI RATO RATS
Judy Smotrel

18) Millknock Kelso Daydream Peacemaker BN AX AXJ NAP NFP NF NA NAJ OAJ OA OF NJP OF
NFP RATO CGC Jim Smotrel

19) MACH5 PACH1 Millknock Bea My Little Token RN BN MXS2 MJC2 MXP4 MXPB MJP5 PAX NF Mary Ann Widmyer

20) MACH Millknock's Go For The Gold CD RA PCD MXS MJG MJS MXF T2B2 Bill Watson


21) Millknock's Believe In Magic RN HIC Meg Goldsmith

22) Millknock St. Clair Cork CDX Arlyn Roller




Above:
*Over 1000 cumulative titles earned
*87 titled dogs
*11 ROMP's
*22 Champions with Performance titles
*35 Dogs with Conformation titles
*10 dogs with Agility Champion titles
36 dogs with Obedience titles
34 dogs with Herding titles
33 dogs with Agility titles
26 dogs with Rally titles
5 dogs with Barn Hunt titles
4 dogs with Therapy dog titles
3 dogs with Coursing titles
7 Versatility Awards
5 Versatility Excellent






Above:
*Millknock's first Performance title 1966-
Wicklowe's Silver Knight CD
* Milllknock's first Champion 1990-
CH Millknock Metallica CD
*National Success:
Donlyn's Tar N'Feathers
1966 1st 6-9 Bitch AOC
CH Millknock Moonstone ROMP
1999 1st Bred by Exhibitor
CH Millknock's Silly Wizard HSAs
2004 1st Bred by Exhibitor
CH Millknock Silhouette
2007 1st 9-12 AOC Bitch




2016
New Champion!!
CH Millknock's Tri The Next Chapter BN HSAd MX MJB MXF T2B VA
owner Noreen Bennett



Sequel finished on 8/21/2016 and is our 5th Millknock-bred Champion this year!!



** News Flash, Asher had won his second major!!
Congratulations to Kelli Carpenter DVM and Asher on their Major Win!!
Millknock Kelso Shoot For The Moon
co bred with Nancy Kelso DVM


New Champion!!



CH Millknock's Firework At Mello-D RN NFP CA
owner Babbi Dilbeck DVM
this is champion #4 this year bred at Millknock





What a CCA National in Louisville, KY!!
Millknock's Firework At Mello-D RN NFP CA
Rough Reserve Winners Bitch under Brenda Miramon!!!
owner/handler Babbi Dilbeck DVM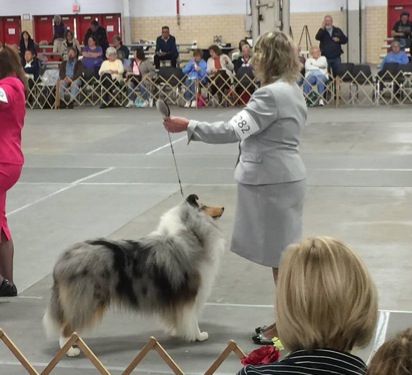 We had a terrific CCA National in 2016...
* Millknock Kelso Quiet Riot 3rd place Open Smooth Bitches
co bred/co owned with Nancy Kelso
* Kelso-Raebeth's Gray Ghost 2nd place 12-18 Smooth Dogs
co bred with Nancy Kelso, owned by Pat Finnegan and Vivian Manuel
* Millknock-Kelso Shoot For The Moon 2nd place American Bred Dogs co bred with Nancy Kelso
owned by Kelli Carpenter
* Millknock The Kingfisher 4th Place in 9-12 AOC Puppy Dogs
* Millknock Meadowlark 3rd Place in Bred By Exhibitor Rough Bitches

***
New Champion #3 for 2016 !!
CH MACH3 Millknock Masked Rider CD MXB MJB OF T2B owner Mary Valentine
finished February 24, 2016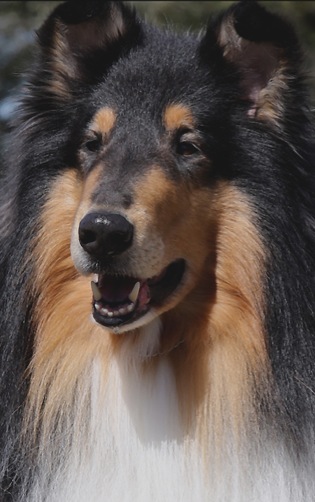 ***

New Champion!
CH Millknock Whitemoor's Wanderlust PT owner Leslie Butler
finished January 24, 2016 with 2 four point majors



***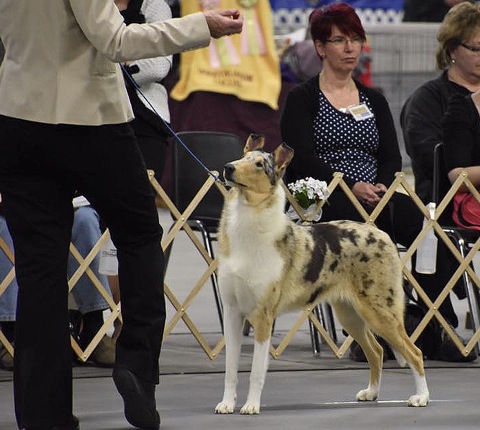 New Champion!
CH Millknock Kelso Quiet Riot
co owned/co bred with Nancy and Joan Kelso
Mason Dixon Collie Club 1/16/16
Smooth WB, BW under judge Debbie Ferguson for 5 pts
Smooth WB, BW under judge Carrie Chase for 5 pts
Maryland Collie Club 1/17/16
Smooth RWB under judge Mary Murphy
Smooth WB under judge Patricia Jung for 2 pts
***
WB, BOV under judge Terry DePietro, over 4 specials for 3 pts.


2015
Congratulations to Caryn & Craig Thacker on their
New Champion !
MACH Millknock No Boundaries MXB MJS MJB T2B
Tori finished January 17, 2015




Congratulations to Noreen Bennett, on her NEW Champion
Millknock's Blue By Ewe CD RA HSAsd AX AXJ XF, Peyton,
and handlers Taylor Williams and Dona Williams !!!
Peyton finished on June 24, 2014
he is by Ch Tartanside Power Play x Ch Millknock's Snap Back ROM-P

We're proud to say Peyton is the 26th Millknock bred Collie to finish his/her championship and we look forward to many more!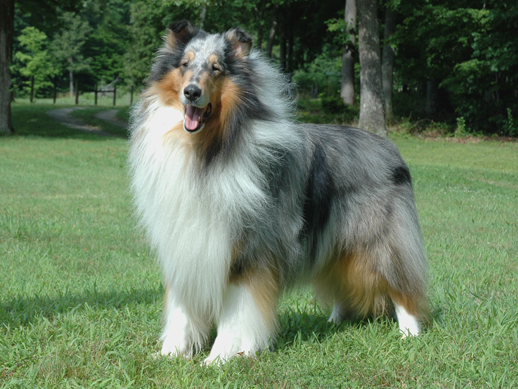 Congratulations to GCH Millknock Carillon for her Group Placement!!
May 18, 2014


On September 18, 2013 I received a very special Birthday gift from the talented Noreen Bennett, that encapsulates all the achievements of the Millknock Family. Thanks again Noreen!!
click on you tube link below:

http://www.youtube.com/watch?v=yVIP6wN36-Y&feature=youtu.be


____________________


Congratulations on recent wins of Aly's (Ch Millknock Mosaic) kids....

Congratulations to NEW Champion Millknock Florida Christmas AX OAJ NF
owner Carol Ann Breton
and handlers Nick Joines and Joel McCarthy!!
Nicholas finished July 27, 2013, this is the fourth to finish out of this litter by Ch Blu Ridge Lookout x Ch Millknock Mosaic.


Congratulations to NEW Champion Millknock Carillon NAJ NF and owner Debby Bell !!
Carly finished in 5 weekends of showing with 4 Majors!! She finished up the weekend with a Select
Award and a BOS.


Update on Millknock Carillon ----
in just 4 weekends of showing "Carly" won 3 majors and needs one minor point to finish!!
Millknock Carillon NAJ NF wins a 3 pt major her first weekend at the dog shows!
owner Debby Bell, handler Ellen Russell


Congratulations! New Champion !!
Cyrano finished on 9/8/2012


CH Millknock To Cyr, With Love CD RN owner Lenore Tirgrath, handler Pete Denbow
(Ch Blu Ridge Lookout x Ch Millknock Mosaic)


A Millknock Gathering in New England --


left to right: Peyton and Noreen Bennett, Judy Smotrel and Mica, Jim Smotrel and Slater,
Zorro, Brooklyn and Mary Valentine



Congratulations!
Tori and Caryn win -- owner handled!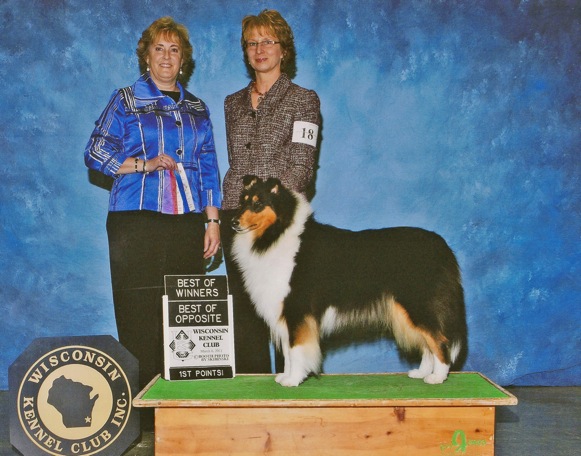 Millknock No Boundaries AX AXJ NF owner Caryn Thacker, Tori
(Ch Blu Ridge Lookout x Ch Millknock Mosaic)



New Champion!!
Champion Millknock Montage finishes with back to back majors July 1 and 2, 2011




Annie was undefeated, all from the Bred by Exhibitor Class, for 2011 in her quest for championship points, going BOV
over specials six times!

Millknock Montage takes a Group Two under Linda More from the Classes at Langley Kennel Club May 28, 2011 !!
(Ch Blu Ridge Lookout x Ch Millknock Mosaic)


(thanks for group ringside photo from Lenore Tirgrath)



2011 Begins with a Bang!

We Extend our Congratulations to Nancy Kelso DVM, Pete Denbow the handler and GCh Kelso's Moon Dancin' HSAs for winning Best of Variety at the Westminster Kennel Club Dog Show and being pulled out as a finalist in the Herding Group!!
"Prince Phillip's" sire is Ch Millknock Moonstone and
his maternal grandsire is Ch Millknock Walkin'On Coals HT





2010 Has Been a Remarkable Year of Accomplishment!

Three New Champions --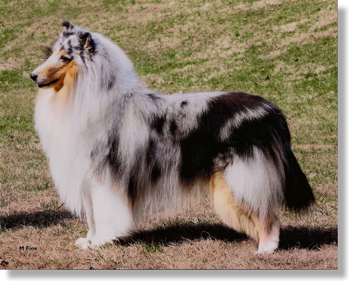 CH Millknock Silhouette
(CH Millknock Silly Wizard HSAsd x CH Twin City In Living Color ROM)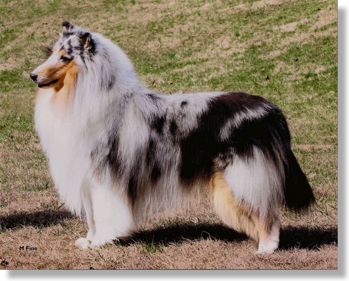 CH Millknock Mosaic
(CH Millknock Silly Wizard HSAsd x CH Twin City In Living Color ROM)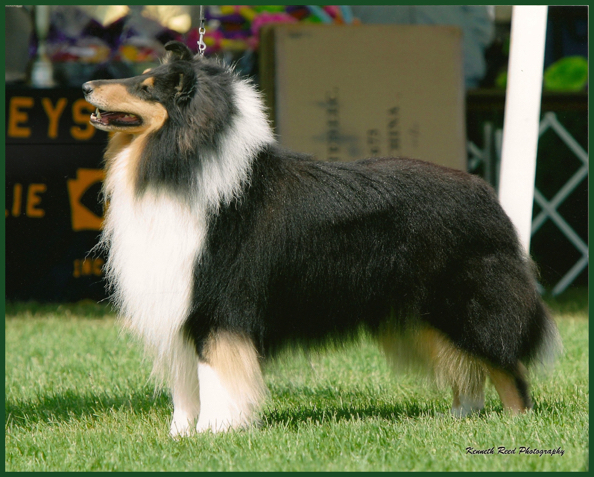 CH Millknock's Moonshadow CDX RN MXB MJB OF T2B PT VX owner Mary Valentine
(CH Millknock Moonstone ROM-P x CH Millknock Silhouette ROM-P)